The Daredevil, a close relative to the Bad Boy, think Bohdi in Point Break--one because who doesn't want to think about Patrick Swayze? And two, because he kind of fits the bill. Not only does he have this extreme surfing, devil-may-care scenario, he's decided life just isn't interesting enough and becomes a thief, too.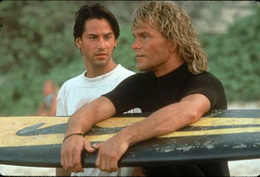 So, let's move our Daredevil into the romance novel. He's the hero who isn't going to think twice, who might hurt the heroine before they reach the Happily Ever After, but somehow can be forgiven. Taking extremes is part of his nature.

Actually this reminds me of a story of a MotorCross [I think] racer who died, leaving his family behind. So, right... that doesn't actually represent the romance novel, but I think if we spin real life to fit into our make-believe, this is the guy you'd have. And when he dies, everyone says, "He died doing what he loved." As if that makes it better... then again, maybe it does.



See [I'm going to get philosophical on you], we all die. If you think about it that way, why not die doing something you love? Like surfing or bike racing or pirateering--okay, that one's definitely from a romance novel. As a matter of fact, read The Iron Rose by Marsha Canham. It is one of my all-time favorite romance pirate stories. The opening scene in that book IS daredevil. It's a hero with a flare for style who takes ships as a hobby... until he unwittingly takes the heroine's ship!! :D
ONE MORE DAY! Join me either tomorrow or Thursday at Penny's blog as I wrap up my series on HEROES talking about the warrior. Thanks for being here.
With Love,
Bethanne