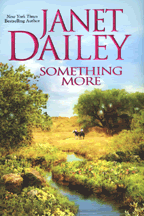 Something More
By Janet Dailey
Published June 2007, a Kensington Hardcover
Life in Glory, Wyoming, population fifty-one, isn't exactly exciting. The dusty old town isn't even on the map. And for rancher Luke McCallister, that's just fine. Broken by tragedy, the stoic cowboy spends his time at his Ten Bar Ranch or down at Ima Jane's Rimrock Bar, trying to avoid the gossip being served along with the food and drink. But the everyday quiet of his life is shattered when he finds a human skull—and possibly the key to Glory's oldest mystery.

It was one hundred years ago that a band of outlaws were said to have buried their gold in Glory. The one surviving bandit tood the secret of the treasure's hiding It was one hundred years ago that a band of outlaws were said to have buried their gold in Glory. The one surviving bandit took the secret of the treasure's hiding place with him to the gallows. Angie Sommers knows the story cold: that man was her great-great-grandfather. She's come to Glory to see if the old legend of the gold is true, and she wants Luke to help her find it. She even has incentive: a possible clue written by the dead man himself.

Luke has no interest in chasing after pipe dreams. He's seen the damage too much hope can bring. Still, he can't deny that Angie makes him feel things he hasn't allowed himself to feel in years. Something about her sweet, trusting nature, her honest eyes, and unshakable belief makes him feel alive again—and that could be dangerous. For someone else is determined to stop Angie, someone who would do anything for the outlaws'gold. Now, bound by the thinnest of ties and shadowed by danger, Luke and Angie set off in search of a mystery as romantic as the west itself on a journey of faith that will take them into Wyoming's rugged, treacherous terrain and even deeper into the heart's tender graces...
Hi, my name is Betty, and I'm a reader.
This is my first review ever...that I've attempted to write down. As a woman of substance [aka strong opinion], I figure this should be easy for me. Unfortunately, it's not. Part of me relished the idea of being able to give a snarky write up. Something disguisedly scathing, yet insightful and truth-bearing. [wow! big head alert!]
Instead my wouldn't-want-to-be-trashed-on conscience reared it's head and now I have a dilemma. So, I'll get right to it...
Dailey paints a beautiful picture of the harsh landscape, Wyoming. [wild applause from the peanut gallery]
That being said, I had a really hard time getting into this book. The characters were by far, ungraspable. An edge of unbelievability sliced through each calculated phrase. Calculated because it was more than obvious by page two that the author was setting us up. [for that soapbox moment, i mean]
Heroes are meant to be flawed. Without flaws where would the story go? Right? Of course right. Poor Luke. I believe he didn't have a say at all in how his character would come across. It was a balancing act between bitterness and charm, between nobility and frank amusement. I would rather have seen just plain bitterness. There is nobility and honor in a man broken by grief. Too bad Dailey couldn't show us that. On an aside, halfway through the book, I still didn't know that Luke was a widower...that he'd lost his family in a fire and drank to dull the pain.
The heroine, Angie, is a really nice person. She softened so many words with a smile, i eventually lost count. My biggest issue with Angie was that Dailey gave her almost no conflict. Angie was, like I said, nice, nonjudgmental--if a little self-righteous, goodlooking and strong. Thankfully, she was tritely condescending about Luke's drinking, his relationships with his peers and with God... Unfortunately, that seems to be an okay quality for Dailey. As if Angie was right so she deserved to give those small bits of reprimand. Can I just tell you? I didn't know this was an inspirational-type book until the first church scene when all of a sudden she's thinking scripture.
Speaking of thinking, the token crazy mountain man has an entire scene in which he talks to himself. Understandable, I suppose, as he's alone. He claims clearheadedness, though, so I guess he's just lonely... I sure did learn alot from his ramblings, though.
If I try to get into all the secondary characters I'll be in big trouble, so let's just say, that as Dailey moved from one scene to the next, each of the characters displayed the greed necessary to create a feasible whodunit. I was reminded [fondly] of my stack of John Wayne movies. A DVD set with the likes of 'Neath Arizona Skies and Paradise Canyon. Great looking people, but bad dialogue fused with amateurish acting. *wince* I love those movies, but they certainly aren't Tombstone or Dances with Wolves.
If you're looking for a story in which the hero and heroine don't get together at the end of the book...or at any point within the story, this is the book for you. Me? I give Dailey one Martini for the the time it probably took to pen all those words into sentences. No, I'll give her one and a half, for the landscaping.
Please note, this is just my opinion. Janet Dailey obviously enjoys the kind of writing career and fan base that I only dream about. She is hugely successful and, I'm sure, will continue being so no matter what I think or say in this blog.