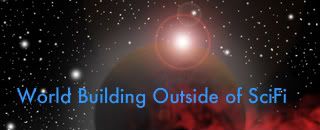 Or, my take on it, anyway.
Earlier today a fellow writer contacted me. She wanted to know if I knew a David Strasser from Ramsey, NJ. Of course, I married a Strasser, so what do I know, right? The name wasn't familiar so I sent out an email to the clan asking, Does anyone know a David Strasser?
My sister-in-law replied,
There was a doctor at Rainbow Babies and children's who was a David Strasser from NJ, the rest of his family was from Erie....... he and I spoke about the fact that we were probably 32rd cousins 4th time removed.
How odd, I thought. This world is really small!
Which led me to think of World Building. [don't ask. I'm not sure how my brain works, either.]
Do I consider myself a World Builder? No, I suppose I don't. I don't write Science Fiction or Fantasy or Paranormal. I write contemporary [usually, with some vintage thrown in for good measure]. But Gosh Darnit! I want credit for the things I've created!
I'd like to point out the fact that readers and writers alike, we all have some sort of family. Traditional or not, we have people we relate to on a daily basis [okay, not you, Hermit, but most of us].
I world build when I create family.
I think Nora Roberts would agree [and if I could get her to comment on this, wouldn't that be cool?]. Her stories contain an element that will always draw me back... Relationships. I can't think of a single story that doesn't involve some family. I love this about her books.
Creating relationships, settings, conflicts... all part of a story that wouldn't exist without the characters, the family.
What do I ask of my hero and heroine when I create their world?
~Do they have siblings?
~How many?
~What are their professions?
~Do they have parents living?
~Where do they live?
~Who gets along?
~Who doesn't get along?
~Do they resemble their families?
~Do they have friends in common?
~Where did they meet?
~If they've known each other long, how have their impressions of each other changed?
What do YOU ask of your characters when creating their worlds?