My internet has been out for a few days.
Grr. It's frustrating but okay. I'm not pulling my hair out...
It seems, even without the internet, I can find something to do. LOL.
Imagine that!
I don't mind mentioning Christmas...
My family's Christmas starts in church.
We were surprised by the church being not-so-full, but we went early, 9:30am.
...before the presents were even opened. :D Well, two for each of them.
I didn't fill... er, Santa didn't fill stockings this year.
You know, Santa gets tired too! And he forgot!
Our Christmas season isn't over yet despite the fact that most stores and webpages have already stripped of the holiday garb. I look forward to the new year. My mind lingers on the prospect of moving, on the prospect of this life changing event that will take place within the next two months. Along with it, I add thoughts of NEW YEARS RESOLUTIONS...
Despite being completely disappointed in last years attempt, I'm added weight loss to my list. I'll say now, though that I'm happy. [despite the fact that I feel as if I should explain, "No, i'm not pregnant, I just look pregnant in that picture!]
I'm working at losing weight...as most people my age are, but I'm not obsessing. I have a friend who is content. She's more than content... she says, "This is me. Take it or leave it!" And she's beautiful. So, this is my year for finding contentment... for having contentment. Perhaps, this will be the key...
Oh, write.
I'm a writer... so i'll continue to do that as well.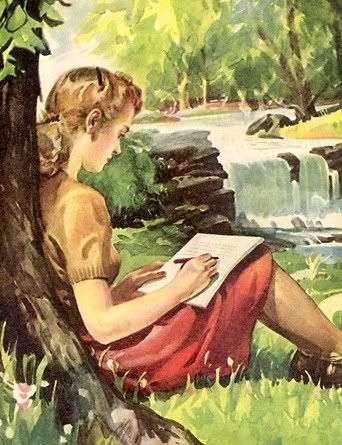 (This is totally NOT me! LOL but it could have been me in a different life.)
Just a picture for bragging... I can't help it! They're mine...all mine!!! LOL. JK. We're at my parents for Christmas. Like I said, a wonderful time.