Thirteen Traits of my Current Heroine,


Margaret Pennington

.

1. Brown hair, brown eyes, freckles (just a smattering), five feet and five inches, Hippy – in that beautiful 1940's pin up way. She's independent and headstrong with a dash of temper thrown in.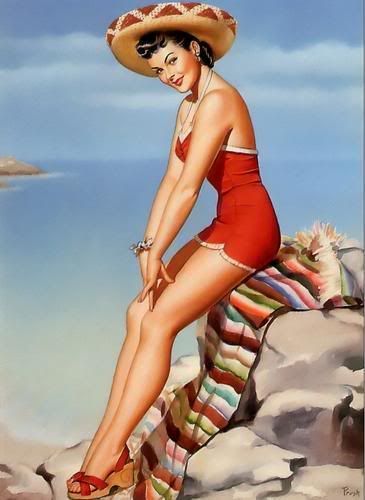 2. Grew up in upstate NY before moving to The City.

3. A father in theater and a Russian immigrant for a mother. One word, eccentric. They supported and encouraged her choice to work in a man's world.

...ARGH. I can't find an acceptable picture for her dad anywhere! Grrr.

4. Traveled the world between the ages of birth to twelve. By 8 she spoke 3 languages fluently. Can speak 5 languages now.

5. Earned a teaching degree at Columbia second to her studies in international relations.

6. Worked as a translator at the Foreign Embassy in NYC.

7. Took a job in London in 1938 at a private school for girls. Part-timed at the American Embassy as a translator.

8. Meets Mark Danbury (the hero) in December 1940 at a dance hall He's quiet and, she thinks, shy…
UH, a few good men, anyone?! So, sue me, I liked the movie too. I told you I was a romantic at heart!!

9. Boy, is she wrong!
10. She *uh* loses herself in new love. *wink* Showing a truly feminine side, everything else around her takes second place to this man and their budding relationship.

11. Summer 1940, Hitler begins his assault on the military bases of Great Brittain… *laughing at the foolishness of youth* They marry in June one week after his proposal. One day before his departure.
Get the Thursday Thirteen code here!


The purpose of the meme is to get to know everyone who participates a little bit better every Thursday. Visiting fellow Thirteeners is encouraged! If you participate, leave the link to your Thirteen in others comments. It's easy, and fun! Be sure to update your Thirteen with links that are left for you, as well! I will link to everyone who participates and leaves a link to their 13 things. Trackbacks, pings, comment links accepted!

View More Thursday Thirteen Participants